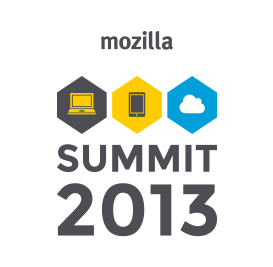 The third and last day of Mozilla Summit 2013 started with all participants working in small groups according to their Mozilla focus and goals. This was followed by a series of small group sessions that focused on Mozilla products, technology, and programs. Later in the afternoon came a number of open sessions proposed by delegates and participants.
At closing time, leaders from across Mozilla led a reflection on the three-day summit. It was announced that the Mozilla San Francisco office would get new signage at the intersection of Embarcadero and Harrison Street. The signage would reflect Mozilla's values of openness, transparency and community contributions. The names of every person who has ever contributed to Mozilla would be featured on the signage below the slogan "Doing good is part of our code".
Then the fox came up on the stage and announced the names of the four Mozillians who had been voted by the Santa Clara summit attendees as the most influential during the summit: Peter Chen, Jefferson Scher, Irvin Chen and Viking Karwur. Irvin Chen was voted as the top influencer overall.
Mitchell Baker then appeared in a short, recorded video and re-iterated her message that Mozillians should build, empower, teach and shape the open web.
Outside the hall was a wall covered with paper, on which Mozillians were encouraged to write their plan for the future. The walls would later be placed in Mozilla offices and spaces to inspire future work.
Wrapping up the summit was a dinner and dance party featuring two DJs.